BHP Billiton employees face criminal charges on Brazil dam disaster
Mining company denies prosecutor claims that executives knew the Samarco dam could fail but allegedly prioritised profits over safety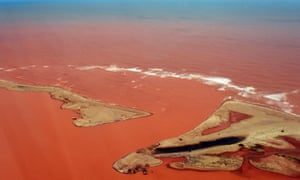 An aerial view of the Doce river which was flooded with toxic waste after a dam burst. (Photograph: Fred Loureiro)
Eight employees of BHP Billiton face criminal charges over the Samarco dam collapse a year ago that left 19 people dead and hundreds homeless, amid accusations that the company put profit before safety.
Brazilian prosecutors on Thursday charged 26 people, 21 for qualified homicide, for their alleged roles in the disaster, which sent a tidal wave of mining waste hundreds of miles through the Minas Gerais region in November 2015.
Prosecutors claimed that employees of BHP and Vale, who jointly owned the Samarco mine, knew the dam could fail but prioritised their profits over the safety of local people.
"We are yet to receive formal notification of these proceedings," said BHP, adding that employees and former staff at the company and its Brazilian subsidiary had been charged.
"BHP Billiton Brasil rejects outright the charges against the company and the affected individuals.
"We will defend the charges against the company, and fully support each of the affected individuals in their defence of the charges against them."
The charges, filed before the federal courts of Ponte Nova in Minas Gerais, have been laid against BHP's eight representatives on the Samarco board, including three who have since left the company.
BHP is expected to argue it could not have predicted the disaster and that the safety of the dam was monitored and advised on by external experts.
The criminal charges came as BHP Billiton admitted it has "more to do" to compensate those affected by the disaster but warned that "ridiculous claims" could cost local people jobs.
Chief executive Andrew Mackenzie faced a stormy annual shareholder meeting in London on Thursday, including colourful protests outside the event, as the board was grilled for hours over its environmental and safety record.
Chairman Jac Nasser also announced his impending retirement, saying he had delayed the decision in order to help steer the clean-up effort after the 5 November 2015 collapse of the dam.
Despite BHP's effort to show contrition, representatives of villages where 19 people were killed, hundreds left homeless and large areas of farmland destroyed said they were not satisfied.
Responding to claims that many people were still awaiting compensation more than a year later, Nasser said this was partly the result of the company's efforts to respond as quickly as possible.
"As fast as we were, and as effective as the group has been, you miss some things," said Nasser. "We know that we have more to do."
Mackenzie added: "We're not done yet. We're not done registering people to be compensated or paying out the compensation."
He said BHP, which has so far booked $2.2bn (£1.8bn) of costs linked to the accident, had issued 7,000 "financial assistance" cards that allow affected people to buy food, adding that the firm had made a "superhuman effort" to support people.
But campaigners who travelled from Brazil to air their grievances accused the company of dragging its feet over compensation, given that nearly a year has passed since the accident.
Maria do Carmo Dangelo, a farmer whose land was hit by a wall of mud some 45 miles from the dam, said: "I lost my land and my parents lost everything. My family has lost its income, which came from producing milk. I haven't received any compensation," she said.
Asked about the answers BHP gave at the annual meeting she said: "I expected something more concrete." She said she was indignant at the firm's claim that the speed of its response to the disaster was to blame for the fact that she and others are still awaiting compensation.
Rodrigo de Castro Amédée Péret, a Franciscan friar from the area, said BHP should involve local people more in decision-making about compensation and the clean-up.
"They [victims] don't want only to be consulted, they want to have active participation in the decisions," he said.
Peret added that it was currently up to the company to decide who had been affected by the disaster, leaving some victims in danger of missing out.
Dean Dalla Valle, BHP's chief commercial officer, said he hoped that the mine, which employed about 6,000 people in the Minas Gerais region, could win approval to reopen next year.
He said this would depend on factors including negotiations with the national and regional government about environmental penalties and permits.
But he warned that while the firm was committed to paying compensation, "ridiculous claims" could threaten the Samarco dam's survival.
The annual meeting came 24 hours after BHP promised to aim for a 50:50 ratio of men to women in the company by 2025.
Source of article: The Guardian